The Remarkable True Story of the Golden Gate Bridge
Newsletter #2: A new essay about one of the coolest things humans have ever made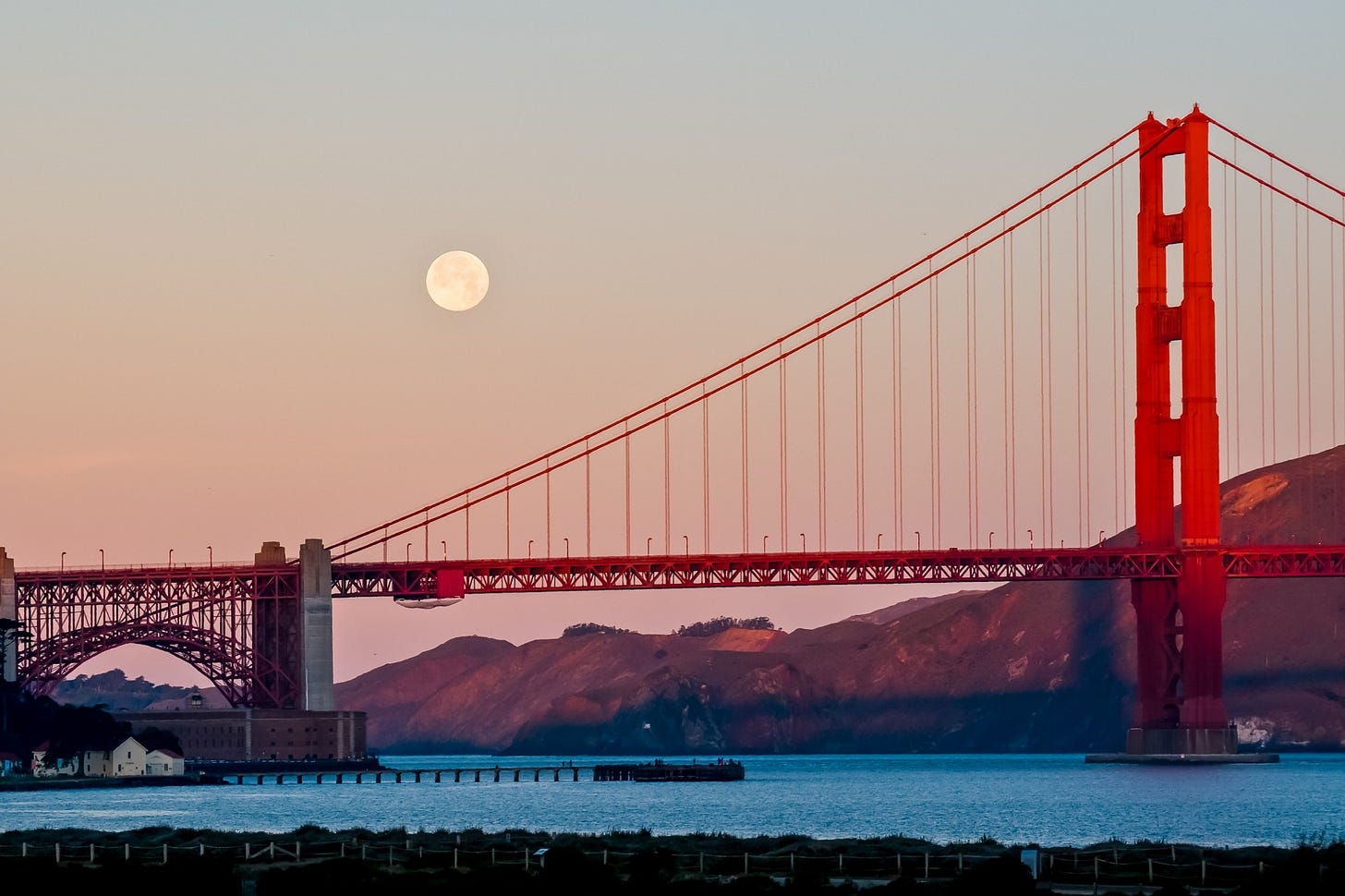 Hey everyone,
For my first essay of 2020, I got to write about the most beautiful bridge in the world—which turns out to be way more than just beautiful—and I'm pretty proud of how it turned out. The essay is called The Remarkable Story of the Golden Gate Bridge. Here's a bit of the intro.
"The Golden Gate Bridge is thought to be many things. To engineers, it's a wonder; to photographers, a dream. To the poet, it's an emblem—"the western bookend to the Brooklyn Bridge," as Michiko Kakutani once wrote. To the troubled, it's a provocation, an intolerable curiosity.
To locals, the bridge is also something more. My last apartment sat on the western slope of Russian Hill, and from its roof I was allowed a view of the Golden Gate that was just about perfect. Most afternoons, as the sun was starting to set and the fog was trundling in, I'd sit on a plastic chair and just stare at it, thinking to myself, "Holy shit," and also, "This is ours" — and even, "This is mine." With its bold and elegant strangeness, at once iconic and iconoclastic, the bridge seemed to reflect the best parts of the city and inform the way I thought of myself as a San Franciscan.
The truth is that the Golden Gate Bridge is all these things. It is both a tribute and a triumph, defiant and definitive, belonging to both a city and to a people. It's everything we think it to be.
This is borne out by the story of how the bridge was built. I didn't know the story myself back when I gawked at the bridge from my roof. I was content, as most of us are, with the beauty of it, the unlikeliness of its silhouette suspended in the middle of all that water and sky. I was content with the awe. But the story — the gridlock out of which the bridge emerged, the geography it conquered, the people who fought for what they knew it could become — is so much better."
Much love and appreciation to all who give it a read. This is how we're coming all year baby! More soon.
PS—if you're receiving this for the second time… sorry. Just switched email platforms!